1. Black Lower Castle Festival Niederburg Kranichfeld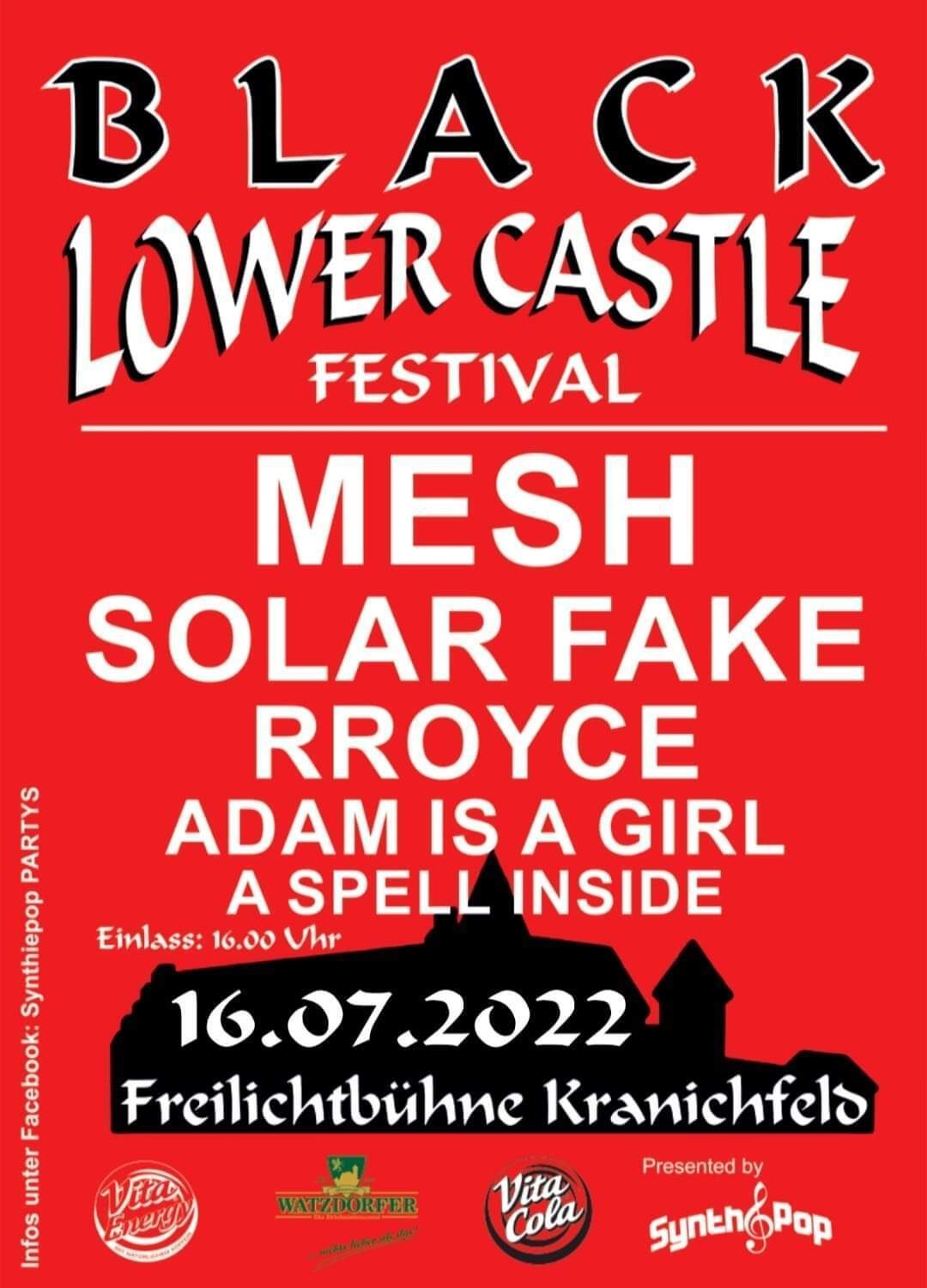 Was soll ich sagen; ein Fesitval der Extraklasse. Tolle Location, fünf fantastische Bands, gute Organisation, traumhaftes heißes Wetter, kalte Getränke, nette Leute, alte und neue Bekannte und Freunde, gutgelaunte Musiker, die richtig Lust hatten, uns zu unterhalten. Mehr Worte braucht es eigentlich nicht. Unter der Leitung von Angela Schreiber und Synthiepop Party haben sie und ihr gesamtes Team ein Festival ins Leben gerufen, welches es in der Zukunft hoffentlich noch oft geben wird.
---
A Spell Inside
Den Anfang machte A Spell Inside. Die deutsche Elektro Pop-Band spielte ein Set von 7 Songs, noch waren nicht alle Reihen gefüllt, doch so langsam wurden die Ränge im Amphitheater der Niederburg schwarz.
Die drei Musiker um Michael Röder sind eigentlich schon Urgesteine in der Szene und gaben alles unter der heißen Sonne von Kranichfeld, um das Publikum in Stimmung zu bringen. Mit einem Mix aus ruhigen Wave und harmonischen Elektro Pop fing das Line up schon vielversprechend an.
Hier die ersten Bilder: A Spell Inside
Setlist: Ballerina´s poem / Rise / Stärke 10 / Eternally / Boundary / Oneway / Sinnbild 2020
---
Adam is a Girl
Wir mussten nicht lange warten und Adam is a Girl begannen Ihr Set, diesmal mit 10 Songs. Auch wenn der kühle und klare Elektro-Sound von Anja Koch und Alex Pierschel nicht für die nötige Abkühlung sorgte, kamen die Zwei zusätzlich auf der Bühne ins Schwitzen, als plötzlich bei  "Your Silence" der Ton ausfiel. Sympatisch wie wir Anja kennen sang sie einfach weiter und lächelte die kleine Panne so erfrischend weg und eroberte damit noch die restlichen Herzen des Publikums. Die Synthie-Klänge gepaart mit Anjas klarer Stimme und den elektronischen Beats bleiben einfach im Ohr und im Herz.
Bildergalerie Adam is a Girl:
Hier die Setlist: Your Silence / Mercy of the Waves / Daydream to Nightmare / Chase her down / Sky / Insomnia / Shadows / Soldier / Sober / Goodby Berlin
---
Rroyce
Nicht nur als Moderator des Abends machte der Frontmann der nun folgenden Band einen super Job. Der zu Späßen aufgelegte Casi führte uns durch das Programm. Nun selbst mit seiner Band RROYCE auf der Bühne, wirbelte ein publikumsnaher Dortmunder über das "Parkett", spielte im wahrsten Sinne des Wortes mit dem Feuer, dem Publikum und den Fotografen. Das Trio mit Al und Kay spielte 16 Songs, darunter "Run, Run, Run" mitten im Publikum und baute die Fans in den ersten Reihen in seine Performance ein. Es war von Minute Eins ein Vergnügen, den Anzugträgern zuzusehen und zu hören. Hier meine Eindrücke des Abends, langsam wurde es dunkler und das Licht tat sein Übriges, die Stimmung zu halten. Zu meiner großen Freude wurde auch  "Paranoiac Sl" gespielt, der Ohrwurm des Sommers für mich, großartiges Video.
RROYCE:
Setlliste der Herren: Principle of Grace / Parallel Worlds /  Who needs / Rebuilt Reborn / Whipping Boy / FoxP2 / Someone elses Life / Too Little / Full Speed / Pyroclastic Flow /  Pause for Thought / Another / Run Run Run /  My dearest Enemy /  Paranoiac SL  /  I like it when you lie
---
Solar Fake
Solar Fake, der "Sonnenschein" unter den Elektrobands war dann an der Reihe, um die Fans glücklich zu machen, die von überall her angereist waren. Mehr Solar Fake – Shirts und Jacken sieht man sonst nur auf einem eigenständigen Konzert der Band. Sven Friedrich, André Feller und Jeans hatten keine Mühe die schon großartige Stimmung zu halten, sie legten sogar noch was oben drauf. Insgesamt durften wir uns über 19 Songs plus Zugabe freuen. Die Ränge mitlerweile schön gefüllt, leider nicht ganz ausverkauft, aber wenn es sich herumspricht, wie fantastisch dieser Abend war, wird es nächstes Jahr auch einen Run auf die Tickets geben.
Bilder sagen mehr als 1000 Worte: Solar Fake
Setliste: Sick if you / Reset to default / This pretty Life / Under control / Implode / All the Things you say / I don´t want you in here / Invisible / Not what I wanted / Arrive somewhere / Es geht dich nichts an / More than this / Parasites / I despise you / It´s who you are / The Pain thats kills you too / Where are you / Papillon / Observer / Join me
---
mesh
Zum Abschluß eines wunderbaren Tages traten nun mesh an. Die englische Synthi-Pop Band hatte anfänglich mit einigen Tonproblemen zu kämpfen, das Micro von Mark Hockings brachte keinen Ton heraus und es dauerte einen Song lang, bis es von den Verantwortlichen behoben werden konnte. Aber auch das wurde mit lautem Applaus quittiert, ein freundliches Publikum unterstütze die Band und so konnte mesh ihr Konzert fortsetzten. Das eher ruhige Set kam bei den Fans gut an, ein toller Ausklang eines gelungenen Tages. 20 Songs trugen uns in die langsam abkühlende Nacht, das Lichtspiel auch hier wieder großartig. Seht hier ein paar Bilder:
Hier die nun 20 letzten Songs des Abends:  My Protector / Remember who you where / From this Height / Leave you nothing / I don´t think they know / Open up the Ground / I fall over / Just leave us alone /  To be alive / State of Mind / The Traps we made / Firefly / Friends like these / The Fixer / Born to lie / Last one Standing / My saddest day / Taken for granted / Not prepared
https://www.gothic-empire.de/wp-content/uploads/2022/07/248406434_4695140847190786_2864648799257554110_n.jpg
1501
1080
Dominique Schmitt
https://www.gothic-empire.de/wp-content/uploads/2022/08/Gothic-Empire-Magazin-Website-weiss.png
Dominique Schmitt
2022-07-21 21:10:56
2022-07-21 21:10:56
1. Black Lower Castle Festival Niederburg Kranichfeld